April 16, 2021—Here's a peek at some of this week's top cases on Washington's Most Wanted with David Rose:
WANTED

: Ishmail Kidane is wanted in King County for 3rd Degree rape of a women last November. He is possibly armed. He is also wanted by Tukwila Police for failure to obey an officer. He is 24 and has monkeys tattooed on his arm that cover their eyes, ears and mouth. He is possibly in the Fife, SeaTac or Tukwila area driving a silver Honda Accord with the license plate BLB2072.

NEED ID

: Do you know any of these gunmen who shot a 2-year-old girl in the face and three men outside of an AutoZone on 23rd and Jackson in Seattle's Central District on April 11. They fled the scene in a tan 2001 Chevy Tahoe stolen out of Renton. The license plate is BFX9017.

MURDER MYSTERY

: Arlington Police are asking for your help to find the black 2013 or 2014 Range Rover Sport SUV and driver that shot and killed 78-year-old Ivan Maik.  The U.S. Marine veteran and former logger with the U.S. Forest Service was sitting in his vehicle in the parking lot of the Puget Sound Kidney Center in Arlington at 5:35 am. Detectives say the suspect in the Range Rover followed the victim from an ATM in Marysville to the medical center parking lot in the 18800 block of Smokey Point Blvd. The suspect got out of the SUV, approached Ivan's vehicle, crouched down behind it and then opened his door and shot him multiple times. There is a $10,000 reward for the arrest of his killer.

NEED ID

: A bizarre hit and run happened in SeaTac and detectives are hoping you can ID this suspect who told the victim his name was Marcello. The suspect rammed two parked cars into the victim's auto repair shop while driving a bright yellow with black accents Ford F150 on the corner of Des Moines Memorial Drive South and S 144th Street.

WANTED

: Jeremiah Wysocki is wanted in Everett for numerous criminal charges including 7 counts of identity theft in the 2nd degree and 4 counts of forgery. Detectives say he travels frequently from Snohomish County, but look out for him in King County and in Spokane.
If you have any information relating to the crimes, people, or suspects in this video, please submit an anonymous tip. We never ask for your name, and we offer a cash reward of up to $1,000 for any information leading to an arrest and charges.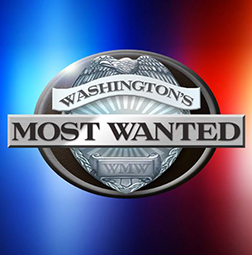 Washington's Most Wanted is a weekly half-hour show dedicated to catching fugitives and making the community safer. Crime Stoppers of Puget Sound has partnered with Washington's Most Wanted to help spread the word about our area's most dangerous criminals. To see these featured crimes, please visit Washington's Most Wanted on Q13fox.com.
Washington's Most Wanted began airing as a weekly segment during the 9 pm and 10 pm broadcasts of Q13 FOX News on Saturdays in July 2008. Just four months later, the segment expanded into a half-hour show, debuting on November 14, 2008.
Executive Producer and Host David Rose has a passion for giving a voice to victims. Since launching, he has partnered with more than 60 local, state, and federal law enforcement agencies as well as area Crime Stoppers programs to lead the way in fighting crimes in our neighborhoods. To date, Washington's Most Wanted has helped police capture more than 1,000 fugitives.
Watch Washington's Most Wanted on Q13 FOX on Friday at 11 pm; on JOEtv on Saturday at 10 pm; and on KAYU, KCYU, and KFFX on Saturday at 10:30 pm.
More of Washington's Most Wanted